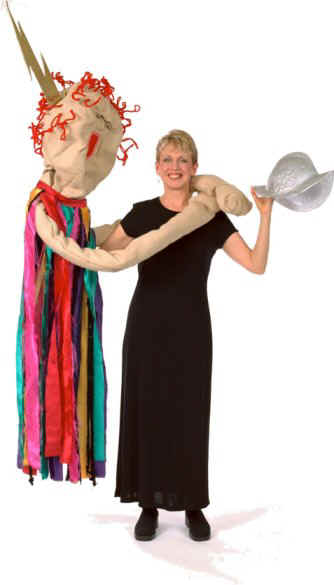 Can We Find Kindness in the Quiet of Our Hearts?
Voices in a Box is a program that helps individuals find peace and kindness in the quiet of their hearts. In this performance I use props and life stories about courage, purpose, pain, power, and love to remind people of life's gifts.

I attended the University of Wisconsin-Whitewater and received a BS in Education. My teaching experience helped me to develop this program with specific tools for use in the classroom as well as in everyday life. As a mother of three boys, storytelling became a way to share powerful messages. I became a professional storyteller and puppeteer with the Kids on the Block and also became involved with comedy and improvisation. All of these experiences have helped give shape to the work that I do.

In addition, I work with organizations such as hospitals, churches, county jails, and homeless shelters facilitating classes on relaxation and community building. This work inspired me to establish the Shalom House to provide a quiet place for people to reflect and learn through Silent Directed retreats, Nutrition Programs, The Art of Peace, Nature Walks, and other workshops.

Over the past 25 years I have been able to share these ideas with many people in the community. I know that what I have to offer can have a life-long significance for peaceful living.

Diane M. Lipman

A Message of Empowerment

Through a combination of storytelling, props and audience involvement, all are empowered to look within for self-kindness leading to kindness for others.

Voices in a Box Teaches:


Voices in a Box is:

45-60 minute presentation (for children, youth and adults along with workshop programs.)

Can we help students be more kind?
Albert Einstein was once asked, "What is the most important question you can ask in life?" He answered, "Is the world a friendly place or not?"

Do you have a kind world inside and out?.

Through interactive presentation, "Voices in a Box" helps students remember their kindness.

Kindness hides behind fear, pain, and worry.

Voices in a Box talks about fear, pain and worry in a non-threatening, non-judgmental way. With life-size puppets and dozens of colorful props the audience participates to learn how to express and process their ideas about courage, purpose, personal power and love.


Students who feel more connected to themselves are more kind to others.


Captivate Students with Kindness!
Voices in a Box… a message of empowerment!

---
| | |
| --- | --- |
| | |
| | |
| | 1872 Shalom Drive |
| | West Bend WI, 53090 |
| | 414-870-7263 |
| | |
| | Web design by Video My Story- email info@videomystory.com |